< Go Back
NORTH EAST INSTITUTE OF TECHNOLOGY JOINS NATIONAL LAUNCH CELEBRATIONS
News
Posted on: July 12th, 2021
As part of the national event, the North East Institute of Technology is commemorating its first anniversary of taking on students.  To mark this milestone, New College Durham will welcome senior leaders from the Institute's partners to tour the facilities at the new Institute of Technology centre.
As the North East Institute of Technology licence was granted during the height of the pandemic in 2020, this will be the first time the partners have met in person since the licence was awarded so represents a significant moment for the Institute.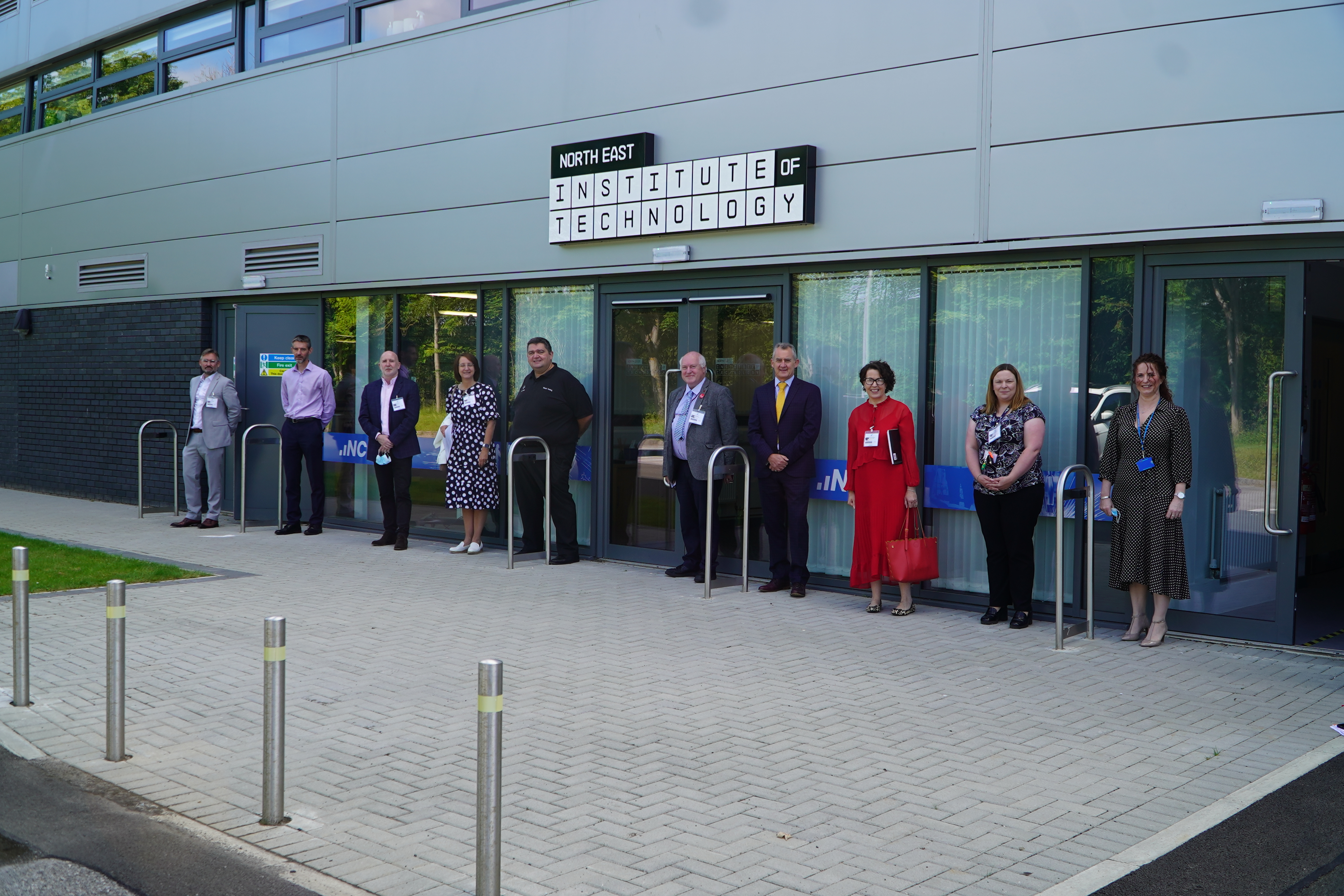 Left to right:  Andy Radcliffe CEO Esh Group, Iain Nixon Vice Principal Education Partnership North East, Paul Robson Managing Director NA College, Zoe Lewis Principal & CEO Middlesbrough College, Ian Green Senior Controller Nissan UK, Professor Steve Bull Newcastle University, Mark Anderson Vice Principal New College Durham, Suzanne Duncan Principal East Durham College, Marie Flatman Assistant Principal Tyne Metropolitan College, Sharon Grant Director North East Institute of Technology
Sharon Grant, Director of the North East Institute of Technology said:
"We are delighted to celebrate this milestone for the North East Institute of Technology, and to celebrate more widely the Institutes of Technology across the UK.  It's a special moment for us to have everyone here in person, seeing the new facilities available here as well as at all our campus sites in the North East. We look forward to another year ahead offering top-quality, higher level technical education and apprenticeships to help close skills gaps, raise productivity and transform opportunities, providing career opportunities for young people and those reskilling or upskilling."
Mark Anderson, Vice Principal New College Durham said:
"We are proud of what the North East Institute of Technology has achieved in its first year.
There are over 1,000 students studying technical qualifications through the Institute across the six further education providers and we have progressed over £13million investments across the partner network. We have established employer led sector boards to inform future curriculum and created a true collaborative approach to develop higher technical qualifications and skills by the partnership."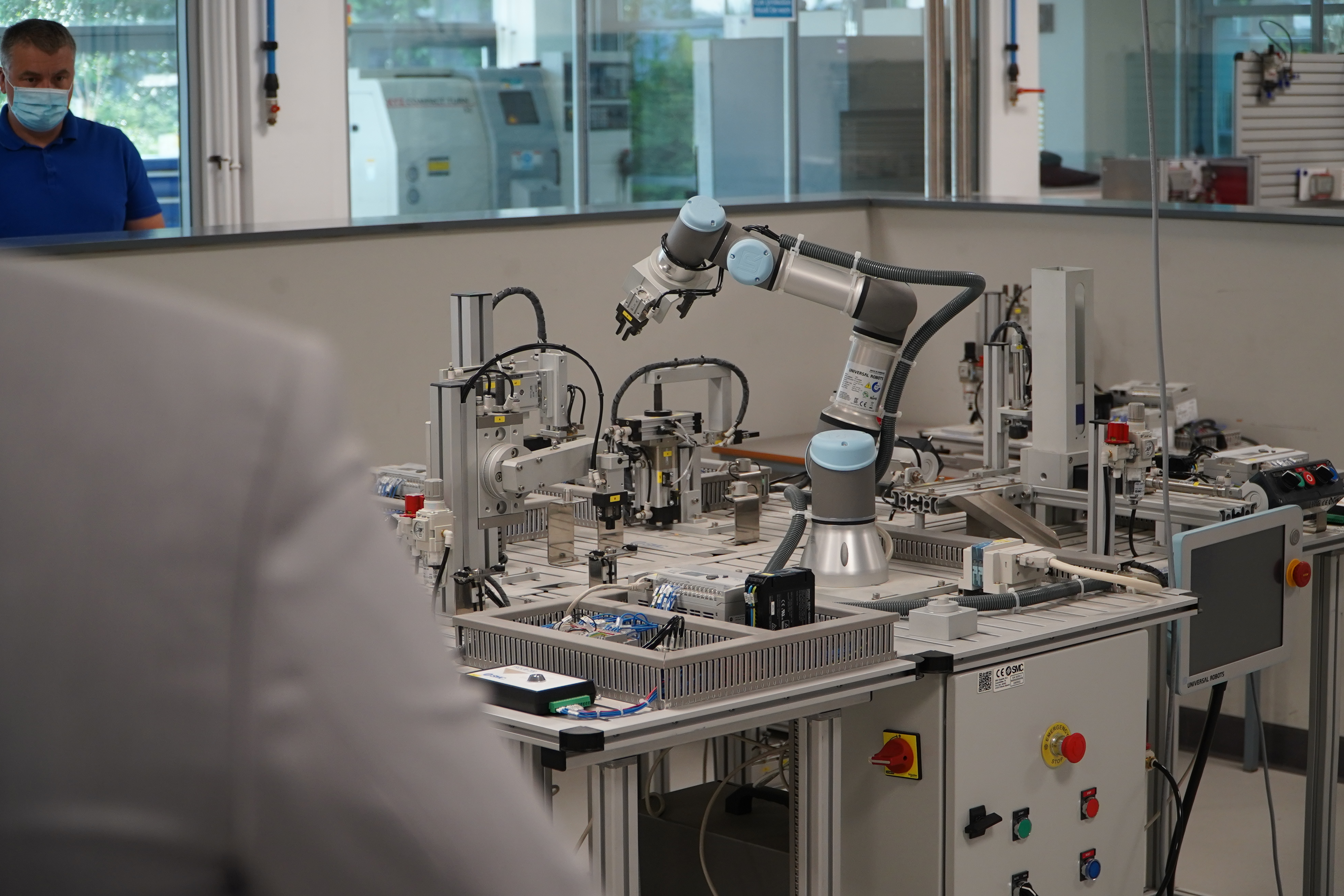 Demonstrating the Advanced Manufacturing facility at the North East Institute of Technology centre at New College Durham
The North East Institute of Technology is a partnership of six education delivery partners (New College Durham, Sunderland College, Tyne Coast College, East Durham College, Middlesbrough College, and NA College Trust) plus key local employers Nissan and Esh Group, and Newcastle University.
Institutes of Technology (IoTs) specialise in delivering higher technical education and apprenticeships with a focus on STEM subjects, such as engineering, digital and construction. They play a vital role delivering the technical skills that local businesses need. By providing world-class employer focused technical education, IoTs offer a clear route into high skilled, high wage employment. This will boost both local employment and social mobility across the country.